You're Self-Employed… All Through Your Career!
admin, 5 years ago
0
3 min

read
147
We're halfway through 2017. More graduates are entering the labour market after a gruelling set of semesters to earn their degrees. If you're reading this and you're a recent/fresh graduate, let me just say: "Welcome to a new chapter in your life!"
---
I'm usually easger at every opportunity to let graduates starting out their new career that one of the most important things for you to understand is: you work for yourself. Right from when you take on your first job until the time you retire, you are always self-employed. Why?
Because a whole lot depends on YOU. Whether you start your day earlier than others, or you choose to decide to work a little harder than others (that 1% over a 100), or whether you choose to stay a little later after official work hours.You control these factors.
In football, they say you make your own luck by making or putting in more effort than the opposing team. You miss 100% of the shots you never take. However, in your career, you can also make your own luck if you will commit to continually doing the things that increase the probabilities that you will be the right person at the right time with the right resources.
How will you utilize your strengths, your talents, your passions? To achieve the best possible results, YOU make these decisions every single day.
Over my working career, so far, I decided not to do whatever I do as if I work for someone else, because I believe I'm doing it for myself in the end. And I mince no words in telling my colleagues and subordinates the same.
Jobs will come and jobs will go, but YOU will remain. Therefore, an attitude of self-employment is not optional. If you want to get on the fast track to a great career — new graduate or not – that mindset becomes compulsory!
Here are some things to keep in mind as you get yourself set for success in your career:
Don't let the world decide your path – Choose something you LOVE over money. Merge the voices in your head and heart when choosing your path.
Make sure you're comfortable with and like your boss – Many have wasted away years of their lives under a boss that never helped them progress their careers or aspirations. Bosses will play a big role on your pleasure, enjoyment, and success in your career more than anyone else.
Never stop learning – You may be done with school, but you should always be learning new things, reading new books, and developing yourself to be the very best version of you. Learning also prepares you so you can take advantage of opportunities.
Always think positively – Preparation, experience, and a positive attitude will eventually lead you to a bright career.
Tomorrow is Father's Day. I'm going to spend some unusual quality time with my family this weekend. Happy Father's Day to all the great Dads reading this! Your hard work is well worth it! Let me conclude with this quote I got off a blog:
Imagine no limitations; decide what's right and desirable before you decide what's possible.
Related posts
Evacuated Returnees from Ukraine Reunite with Their Families
Emotions ran high on Friday night at the Nnamdi Azikiwe International Airport, Abuja when young Nigerians, who were evacuated from…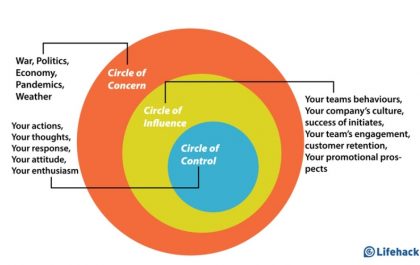 Maintain Calm within Your Circle of Control
The current situation with Ukraine really made us all disturbed… Things like this haven't happened since 1939 and it's scary……