Where is Your Focus – The Regret or the Solution
admin, 5 years ago
0
3 min

read
163
Sometimes, because of the free reign of social media, we receive messages that impact our mindsets, whether we like it or not. There are some messages that mainly border on the negative, factual as they may be. The writing below is one of them; however, read on to see one of the responses to that message, and select for yourself what you wish to focus on.
---
"If Buhari didn't win in 2015, we would have thought by now that Nigeria would have been like London. Thank God he won for everyone to know that he can't perform magic. Buhari said he does not know anything called subsidy. You clapped. He later paid subsidy. You clapped again. He said he would never devalue the Naira. You clapped. He devalued the Naira. You clapped. He said he will make N1 equals to $1. You clapped. $1 is officially equal N360. You are still clapping. 
He said he will make petrol price to N40, you clapped, now petrol price is N145, you clapped and do protest in support. He said he would turn all presidential jets to national carrier. You clapped. Today, he and his family are cruising on all presidential jets. You are clapping. 
He said he would build one new refinery each year. You clapped. Its getting to two years, no refinery has been built. You are still clapping.
When PMB promised to end medical tourism, you clapped. When he spent months in UK hospital and allowed local doctors on strike, you clapped.
Your mumu never do?! Abi this one na hate speech?"
****************
Observe that most of the writer's points were probably true… facts… albeit with a perspective of what was expected over a two-year tenure thus far of the Mohammadu Buhari administration. You can't blame anyone for having expectations or for decrying the state of the nation as against those expectations. However, this is SilverLining, where we normally choose to focus on the good, and what can be done, as opposed to the bad or complain about what should have been.
A receiver of the above post replied as below, in a brief but interestingly straightforward manner that took ownership of the situation and focused on action over talk. We can't keep looking back, else we hinder our march forward. Read the response below:
"I would speak for myself. When in 2015, we were tired of the corruption and going nowhere of the Jonathan's regime. I personally wanted a better life for myself and family. The only alternative was Buhari and yes we believed that he could take us away from our present pain but most of us knew he won't be able to give us full succor. It wasn't about the person but about seeking for good governance. 
In 2019 I am prepared to vote again for anyone that I perceive will do a better job. We should not be sentimental about this issue and coming up with 'I told you so'. We are all in this together. We have over looked the deadly link that is sinking us as a nation and focused on one man. The National Assembly is our biggest problem. Let's us concentrate on who goes there in 2019. Their budget is N125billion, more than states with millions of people. This is no more 'I told you so'; it is more of what and who is coming in 2019 so we can use our electoral powers to better our nation."
Friends, I do not advocate ignoring the facts, but what we focus on defines us eventually. Let's be solution-oriented as a people and as individuals. Let's focus on what-can-be and not only on what-is. Let us realize we have power, power to make and mend, to loose and bind, to set free and to imprison. Let us use our power right.
Related posts
Evacuated Returnees from Ukraine Reunite with Their Families
Emotions ran high on Friday night at the Nnamdi Azikiwe International Airport, Abuja when young Nigerians, who were evacuated from…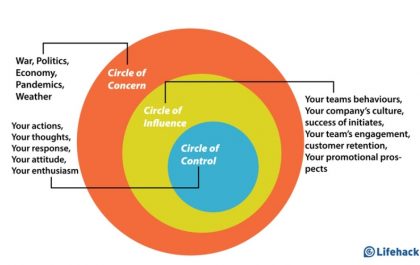 Maintain Calm within Your Circle of Control
The current situation with Ukraine really made us all disturbed… Things like this haven't happened since 1939 and it's scary……