Organizing Your Day as an Entrepreneur
admin, 5 years ago
0
3 min

read
146
In the next few months, I take my second leap into the world of entrepreneurship. (Yes, I said it!) So, combined with many years of experience, many failures, many ideas, many hiccups, I decided to still scour through various resources to guide me through the coming times.
---
One of the key things you'd want to control when you're self-employed is your TIME. Time – that all-expensive resource and precious commodity… ticking away with each passing second.
I have found that most business owners appear to be long on ambition, and short on time. As a business owner, you will juggle multiple roles on a daily basis. So, how can one ensure we manage our TIME properly in order to still achieve some of the audacious goals we may have set for ourselves?
As I delve into this business world (again), here are a few tips I found, both from asking some friends and reading from other successful entrepreneurs.
1. Take 5-10 minutes each morning to review what needs to be done today. Do this before checking your social media accounts, responding to emails/SMS, or returning any calls. Prioritize FIRST!
2. Make a new list everyday (see the article picture). I personally already use a to-do list booklet, and combine with the electronic notepads on my phones (which synchronize with themselves). Do what works for you, whether it's electronic or paper. Just be consistent, and WORK THE LIST!
3. Do a regular check-in with yourself through the day. Refer to the priorities you set earlier in the morning. Check if they line up or you need to adjust.
4. Make plans to be interrupted. Create 'interruption time', enough to ensure you still get where you're going or get the work done. As an employee and manager, I'd usually frown at colleagues that use "traffic" as an excuse for coming late. If you live in Lagos, and you don't plan 'traffic' into your timing, you're not a very serious person.
5. If you pick up a thing or task, do any of these things – FILE IT (documents, statements, notices), ACT ON IT (make the call, send the email, pay the bill, etc), or RECYCLE IT (shred it, throw it away).
6. AUTOMATE! Use apps and software to automate as many things around you. So many free apps these days that can help you complete tasks. Find out what works for and optimise it to your benefit.
7. KEEP A JOURNAL. Track your days and review at least weekly. Keep track of what went right and wrong. Such reflections help you make better decisions on future events.
8. Keep a clean desk. Trash whatever isn't needed. Avoid clutter around your work space or desk. Researchers claim it affects the clarity of your thinking process. If you think it's important, then file it. Otherwise, shred it or recycle it.
9. Keep prioritising… daily. Priorities change, but ensure you visually mark high priority tasks so you can attend to them and complete them. It brings a bigger sense of satisfaction. You could use any rating system that works for you – ABC, 1-5, etc to represent the importance of each task.
10. Take 5-10 minutes at the end of the day to review your list. What got done? What needs to be added to tomorrow's list?
Yes, everyone wants to be their own boss, but, without the discipline to manage your time daily, it's not always easy eventually achieving your dreams. The road to success for the business owner is filled with many hurdles. You must find what works for you towards getting and staying organized.
And how is all this related to being "financially fit"? Well, TIME IS MONEY! 😉
Related posts
Evacuated Returnees from Ukraine Reunite with Their Families
Emotions ran high on Friday night at the Nnamdi Azikiwe International Airport, Abuja when young Nigerians, who were evacuated from…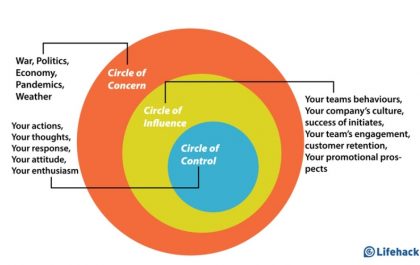 Maintain Calm within Your Circle of Control
The current situation with Ukraine really made us all disturbed… Things like this haven't happened since 1939 and it's scary……