Living a Fulfilling Life!
admin, 5 years ago
0
3 min

read
307
I yearn for a fulfilled life. What about you?
This is not motivational speak. It's an outpouring of a phase being shared. It's about sharing some PRACTICAL steps that can help you live that fulfilling life.
---
Well, so far, I have learnt this much: Fulfilment does not come from material things. Any fulfillment you feel from a material thing is at best temporary. Fulfilment is really a mindset.
Sadly, but honestly, there are many people who never really get to know what it's like to live a fulfilling life. Many haven't released the 'brakes' yet – those thinking patterns and sentiments that deter us.
Many don't even have self-worth, and the guilt they carry weighs them down from ever moving forward. They don't feel they can amount to anything worthwhile.
I talk to a lot of people, and I often read in them, knowingly or unknowingly, that they don't feel they deserve to be happy; they feel they're just not good enough. They compare themselves to others whom they feel are better than them, and they just feel much worse.
Guilt is one of the most powerful negative phenomena that brings down the hopes of so many people in society today. In the past, I have been tempted to think it's because of one wrong doing or the other that some bad thing or event is happening to me.
You know what? I shook off that feeling, and told myself that I deserve all the happiness and fulfillment I can enjoy (legitimately, of course), by taking worthwhile actions around me.
Today, I want to encourage many, like me, to get rid of any guilt feeling. Release the brakes. Here are some of the things I have learnt to do so far, and I'm still learning. Please share yours if you have more.
– STOP Criticising yourself negatively all the time. Say only the things you want to be true in your life.
– DON'T let guilt manipulate you nor your actions.
– Learn to FORGIVE. Will Smith said this in a song I've known for years now, "Hate in your heart will consume you too…" Never forget that.
– Surround yourself with positivity. Connect with people who make you smile and bring out laughter in you. (Guess your Facebook and WhatsApp groups matter here too. Lol!)
– Visualise success. There's a positive vibe you get each time you visualise your success in any endeavour. Do this often enough.
– Give yourself goals to reach in your personal or professional life. Set tangible goals, & create a plan to achieve them.
– Celebrate your accomplishments. Reward yourself whenever necessary. Many of us are guilty of not celebrating our successes enough.
– Take Charge. Don't put others in charge of your own happiness. Don't blame other people or things for your unhappiness.
– Help others. Share what you have with other people, whatever the resources, whether it be money, time, experience, knowledge, etc
– Take care of yourself. Give yourself rest when you need it. Take casual leaves at your work place for this if necessary.
– Find the good in others. This can be difficult, yes, but dig deep if you have to. Focus on the good qualities of people.
Are you in the right mindset for success and fulfillment? If you have some work to do on your mindset, make the decision to TAKE ACTION TODAY. Don't postpone or delay.
Your life only gets better when YOU get better
Related posts
Evacuated Returnees from Ukraine Reunite with Their Families
Emotions ran high on Friday night at the Nnamdi Azikiwe International Airport, Abuja when young Nigerians, who were evacuated from…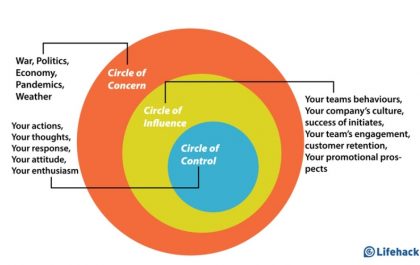 Maintain Calm within Your Circle of Control
The current situation with Ukraine really made us all disturbed… Things like this haven't happened since 1939 and it's scary……