In Spite of it All…Think!
admin, 5 years ago
0
4 min

read
219
Today, Monday the 21st of November 2016, we received a two-hour speech from my Executive Director. He was justifiably concerned about the situation of the company and our direction, or the lack of it. It was virtually a non-stop one and half hour straight talk, which varied in tone and content, but with an underlying message – something's gotta give! (paraphrased)
---
Yes, the company was in some conundrum as at the final weeks into the close of the year. We had only been half of the previous month's salary… the very first time of salary delay in the company for 6 years straight. Our revenues had depleted one after the other through the course of the year, as a consequence of the change in the country's administration and its subsequent effects across many government agencies and parastatals… naturally. I would say these were times foreseen, but that's a topic for another post.
Today, I took notes from my ED's speech. Not strange, you think? Well, I don't take notes from his speeches very often, and that's not because he's not intelligent or anything. Let's just say his leadership style had been more autocratic than motivational. However, he seemed to have gotten some weekend inspiration from some place, or someone. So, I just wish to share some highlights of those notes with you today.
The first surprise was the extended morning devotion we had prior to the start of the meeting. We had sung our usual two to three worship songs and said a prayer. He then interjected just before the Muslim representative amongst the staff was to say their own prayer. He called for everyone to remain thankful in all things, and praise God amidst all. This inspired my spirit as I broke in tongues within me, even before we started singing the praise songs.
I was glad. I was glad, not because everything was alright around me, but because I, and many other staff, could still find the voice to joyfully and sincerely give thanks to God in praise. I may have come to the office that day feeling overwhelmed with issues, but, at that moment, I smiled in gladness – from joy, even if not from happiness (I hope we all know the difference…).
Below are just a few touch points I wish to share and encourage everyone reading this by:
Who is your Mentor? – Every successful person could point and tell you their mentor. Although not a condition for success, having a mentor takes you farther than you would ever have gone by yourself. Find a mentor if you don't have one.
Be conscious of your associations – As it's popularly said, "If you're the smartest in your group, change your group". Where there are five wealthy men and one poor man, you will have a sixth wealthy man; and where there are five poor men and one wealthy man, you will soon have the sixth poor man.
Control your content – In computer parlance, garbage in, garbage out. Stop watching only the bad news the TV provides. Feed your mind with positive things and positive news. Focus on the good as much as you can, and it will reflect on the outward part of you eventually.
You are a product of the decisions you made yesterday – This inherently interprets that your decisions TODAY will be key determinants to influence your tomorrow. Make better quality decisions today. Change what isn't working. Start afresh if necessary.
You cannot travel within, and stand still without – Basically, where your mind projects to, you will surely accomplish, with enough doggedness, persistence, and innovation. James Allen reiterated in his book, "As a man thinketh in his heart, so is he."
[Guidedly] Expose your kids early to technology, it will control their future, and introducing them early will keep them ahead of the game.
So, in spite of the company's trouble, the Executive Director was able to provide a guiding light, a thought process, that we could hang on to. In spite of the gloom, many of us could see the light. We realised, if we didn't already, that the change does begin with us… in line with President Buhari's national mantra. A new mindset, guided by the above advice, was required. A new program/software needs to be installed, and the old software uninstalled or deleted.
I trust that the advice above will prove useful to you, helping you to focus on the silver lining behind your cloud. Stay hopeful. Keep the fire burning. Never give up!
Here's to celebrating your bright future!
Related posts
Evacuated Returnees from Ukraine Reunite with Their Families
Emotions ran high on Friday night at the Nnamdi Azikiwe International Airport, Abuja when young Nigerians, who were evacuated from…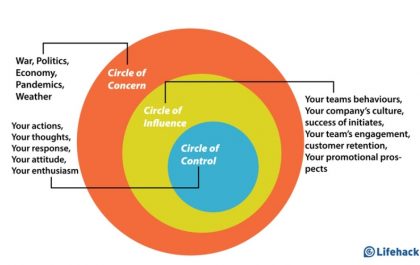 Maintain Calm within Your Circle of Control
The current situation with Ukraine really made us all disturbed… Things like this haven't happened since 1939 and it's scary……