Getting a Clear Sense of Your Purpose
admin, 5 years ago
0
3 min

read
193
This life is a journey. Every journey is embarked upon with a purpose, a destination. So, it follows that most of us, at some point or the other, will ask ourselves that most important question: Why am I here?
---
What's your destination? What do you really want in life?
I have found that if you're really serious about success, these kind of questions will consume your mind almost all the time. You'd want to be sure you're truly doing what you were intended to do. Most successful people evaluate themselves regularly, check their overall progress, and compare to where they're really going and what they really want out of life.
For instance, if you set a destination on a satnav, you'd regularly check the progress of your journey, isn't it? You'd want to know how far or close you are to your destination, checking alternative routes. The time to your destination changes depending on the speed you're moving. It's the same with life.
But, finding your purpose may not always be easy. We live in such a fast-paced world with a lot of unpredictability. However, I take solace to say that our lives are still largely determined by our own personal choices and decisions.
Finding our purpose is central to all that we do and eventually become. But it has to be intentional. It has to happen by taking advantage of the opportunities that are around us.
The opportunities that we come across are sometimes like diamonds. Raw diamonds look like chunks of rock. They need to be cut and shaped to reveal the actual beauty and value. The same with opportunities – they're sometimes disguised as hard work, persistence and so on.
Find your path and throw all that you have into it! Ensure you get the right path to YOUR success, so you don't end up finding out that you spent years climbing the ladder of success only to discover the ladder is leaning on the wrong building!
We want to attain financial success, right? Well, it's also tied to your purpose. So, time used to really discover your purpose is time well spent towards helping you fulfil your financial goals as well.
Ask yourself these questions with regard to your purpose:
       Is this something I personally want? Does it excite me?
       Can I write it down so clearly and specifically such that a 6-year old child can read it?
       Is it measurable? Can I quantify it?
       Is it believable and achievable?
       Is there an 80-90% probability that I can be successful at it?
       Does it harmonize with my overall goals?
Each one of us are here on earth to do something wonderful with our lives, whether big or small. It's up to us to discover what that is. Some of us have already discovered it, while others may still have to "cut and shape our diamonds" to discover ours.
I want you to be truly happy, so go out there and get a clear sense of your purpose in life.
Let me help give a visual guide that could eually help you.
Courtesy: http://organicolivia.com
Related posts
Evacuated Returnees from Ukraine Reunite with Their Families
Emotions ran high on Friday night at the Nnamdi Azikiwe International Airport, Abuja when young Nigerians, who were evacuated from…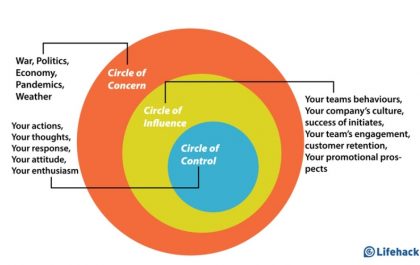 Maintain Calm within Your Circle of Control
The current situation with Ukraine really made us all disturbed… Things like this haven't happened since 1939 and it's scary……